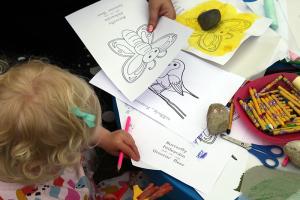 A specially commissioned article written by the Droichead Project
Core Funding from the Community Relations Council (CRC) has allowed the Droichead Project in Cultúrlann Uí Chanáin to develop relationships with groups that work in communities where access to the Irish Language is limited.
Waterside Neighbourhood Partnership (WNP) has been engaging with the Droichead Project for a number of years, exploring ways to introduce languages to communities in an engaging and positive way. In a sometimes challenging climate of politics, misinformation and prejudice, the two groups have persevered to increase the confidence of communities to engage in programmes that include language as a theme.
During 2023, WNP successfully secured funding from DFA to work with a diverse range of age groups delivering activities through the medium of English, Ulster Scots and Irish Languages. They approached Droichead as a partner to support the project, develop activities and identify facilitators who could help animate the ideas.
The project began rolling out in May 2023 with Rhymes and Games in the Park for pre-school children. Delivered in four Neighbourhood renewal areas in the Waterside of Derry, the project animated playpark spaces with songs and rhymes in three languages, including the Hokey Cokey sung in English, Irish and Ulster Scots! Irish Language facilitators Cara Mooney and Caoimhe Deeny have extensive experience working with children and young people and brought a sense of joy, calm and fun to the sessions. Ulster Scots writer and poet, Anne McMaster, helped the facilitators and staff learn familiar songs in Ulster Scots and also talked to parents and children about words related to the nature around them, like plants and insects, highlighting the connections between Irish and Ulster Scots. Children also did some art and planted seeds to take home and grow on the windowsill with the English and Irish words for the plant written on the pots.
Lisa Anderson from the Droichead Project said: "Projects like this are important as it means children's potential first interaction with Irish and Ulster Scots are fun and positive, and in a context they understand. It also encourages parents to consider the value of the languages and how they relate to the land and nature around us, linking to the names of the places they know and hear. It was lovely to watch the kids, very naturally and without prompting, do the actions to rhymes they already knew, but sung in a different language."
The activities were received positively and WNP and Droichead have already hosted a Ceilí for older people's groups in the Waterside and are planning Halloween activities with teenagers, a cultural programme with Women's groups, and a Christmas showcase in December as part of the programme.
Alison Wallace from WNP said: "We are delighted at the positive response from communities and are really looking forward to the next stage of the programme. Successful engagements like this don't happen overnight. They require trusting relationships that take time to develop, which is why Core Funded Good Relations work is so important."