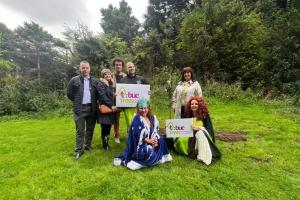 Article written by Paul Douglas, T:BUC Trees Programme Manager.
The T:BUC Trees Programme, supported by The Executive Office (TEO), seeks to provide opportunities for people from all backgrounds to come together, learn more about the environment and participate in shared good relations activities. It supports a range of projects across existing good relations funding schemes, including the District Council Good Relations Programme (DCGRP).
DCGRP is a match funded good relations funding programme delivered jointly by TEO and District Councils as part of the wider Together: Building a United Community (T:BUC) Strategy.
The latest T:BUC Trees event took place on 19 August 2023 at Clonallon Park in Warrenpoint and I was delighted to be invited to take part.
The event – part of the annual "Waking the Giant" festival – was organised by Newry, Mourne & Down District Council as part of their DCGRP Action Plan, which is supported by TEO and aims to provide local solutions to local good relations issues.
Pupils from two local schools attended and, after an introduction from Council Chairperson Valerie Harte, they planted a variety of fruit trees in the local community orchard.
By linking the activity with the T:BUC Trees Programme, TEO are able to provide learning, branded materials, and links to other groups working on similar projects by placing the event in the context of wider environmental initiatives taking place under the T:BUC Trees Programme.
Speaking to participants and their guardians, I was impressed by their enthusiasm for the event, and the positive effect shared interests and activities can have in opening pathways to good relations and lasting friendships.
As well as planting trees, I was treated to a behind-the-scenes look at festival preparations and some theatrics from the cast of Enchanted and The Hex Factor – theatrical performances produced specifically for the festival. It was a privilege to be involved in such a high profile festival and the morning was a fantastic example of how T:BUC Trees can be incorporated into larger scale events and programmes.
If you would like to find out more about the T:BUC Trees Programme, you can email tbuctrees@executiveoffice-ni.gov.uk