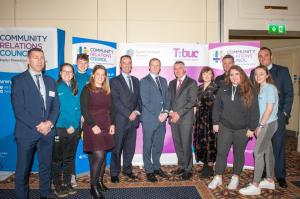 Sport and creativity are important ways to bridge community divides and bring young people together to form lasting relationships.
This key ideal was intrinsic to the latest T:BUC Engagement Forum where practitioners delivered keynote talks from the Irish Football Association, Gaelic Athletic Association, and PeacePlayers NI.
Over 150 people – Including Lord Mayor of Armagh City, Banbridge and Craigavon, Cllr Mealla Campbell and Junior Ministers Declan Kearney and Gordon Lyons – where in attendance at Armagh City Hotel on 11 February 2020 for the event Together: Building A United Community (T:BUC).
The T:BUC Engagement Forum, which runs three times per year, is organised by the Community Relations Council on behalf of The Executive Office.
The Engagement Forum is an important opportunity for government to update the voluntary and community sector on T:BUC progress, as well as identifying good practice and recommendations for improved delivery.
Key to this event were discussion groups and workshops focussed on using of sport as a medium for improving good relations.
Sport's reach is unrivalled. Regardless of age, gender or background – sport is enjoyed by all. It promotes universal values of co-operation, respect, and tolerance, which is why it can be utilised for effective community building and peace education.
Gareth Harper, Managing Director of Peaceplayers NI, explained:
"At PeacePlayers we use the power of sport to unite, educate and inspire young people to create a more peaceful world. The funding we receive from the Community Relations Council means we can offer sport programming, peace education, and leadership development to those living in communities in conflict.
"We challenge the hate that is driven by the fear of our differences. We bridge divides between people through the game of basketball and we develop young leaders who help to change perceptions."
T:BUC hopes to harness the power of sport to build a better community through the programmes funded under the T:BUC strategy.
PeacePlayers participants Aimee (AJ) McMinn and Rachel Madden are living proof of the power of community relations sport programming. Both teenagers presented a talk at the event. Having graduated from a PeacePlayers programme, they now deliver community relations sport programming across Belfast as sessional coaches for PeacePlayers.
Now friends, AJ and Rachel first met during a PeacePlayers programme at their primary school.
AJ took the opportunity to explain how she met Rachel:
"You'll never really find us in a conversation without each other or you won't hear AJ without hearing Rachel.  You won't see AJ without seeing Rachel.  We are practically inseparable, and it's been that way really from we started PeacePlayers."
Eleven years ago PeacePlayers brought the two girls' primary schools together. Holy Cross and Wheatfield in North Belfast were separated by a community divide, but basketball was the medium used to bridge the gap.
"We went to primary schools in Belfast just across the street from each other," AJ continued. "But we grew up in separate worlds and never crossed the road to speak. Today, simply after the opportunity to play basketball together, we're the best of friends, forming a friendship across the divide with the help of PeacePlayers Northern Ireland."
The event was completed with a panel discussion based on the points raised during group discussions.
Keynote Talks
Read the keynote talks and a transcript of the panel discussion.
Further Information
The Community Relations Council provides several funding schemes. Read more about our currently open funding schemes.