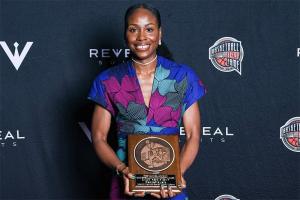 PeacePlayers were awarded the 2023 Mannie Jackson – Basketball's Human Spirit Award at the Naismith National Basketball Hall of Fame Awards Gala on 11 August 2023.
PeacePlayers NI is supported by the Community Relation Council's Core Funding Scheme.
The organisation was honoured to receive an award that recognises those who use basketball to serve humanity and the greater good.
Co-Executive Director of PeacePlayers US, Sally Nnamani, who learned her craft serving as an international fellow with the PeacePlayers programme in Northern Ireland, took the stage to receive the award on behalf of the organisation. Sally spoke of PeacePlayers' evolution into an organization that not only strives for peace but is also intentional about what that peace looks like.
"Working across five continents, and 75,000 young people reached," Sally said, "we've bridged divides, we've developed leaders and we've changed the perceptions that we have of one another. Over time, that vision has evolved. Today, we are using the game of basketball – this global game of ours – to develop the next generation of peacebuilders and leaders, who will create communities where we don't just live together – we thrive together."
The award was presented to PeacePlayers as part of the Naismith National Basketball Hall of Fame Weekend Enshrinement Ceremonies which welcomed a class of honourees who are some of basketball's greatest ambassadors, including among other Dwyane Wade, Gregg Popovich, Becky Hammon, and the 1976 U.S. women's national basketball team.
Peaceplayers NI wishes to thank all who have supported the organisation over the past 20 years. The organisation believes this recognition would not have been possible without the thousands of young people, families and supporters across the globe.
PeacePlayers Northern Ireland is also currently celebrating its 20th anniversary this year. They acknowledge all the trust and believe in their work that people have shown locally, and wish to honour that investment by demonstrating every day the power of sport to unite and inspire.
In order to ensure another 20 years of transforming communities in conflict, PeacePlayers would be grateful of your continued support. Please consider donating today, or sharing their story with your families and friends.
Find out more about PeacePlayers NI
You can view the Award Ceremony video here: https://www.nba.com/watch/video/peaceplayers-retrospective-hall-of-fame-class-of-2023?plsrc=nba&collection=2023-hall-of-fame-tip-off-celebration-awards-gala