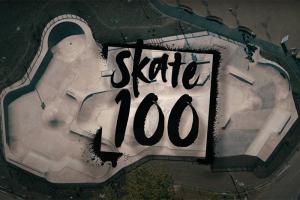 Through the European Union's Peace IV Programme, along with The Executive Office's match funding, an exciting new skate park "Skate 100" has been launched by Antrim and Newtownabbey Borough Council during 2022 at the V36 Park in Newtownabbey. The £750k skatepark was delivered under the Peace IV Programme's Shared Spaces and Services theme.
As one of the largest skateparks in the UK and Ireland, the 14,000 square-foot park hosts an exhilarating range of urban sports.  
The growing demand for urban sports and increased awareness of the importance of health and wellbeing were key factors behind the project. From skateboarding and BMX to parkour, with features ledges, stairs, banks, sharp hips, waterfalls, volcanoes and a 10-foot-deep bowl it's perfect for those from beginner level through to experts.
Skate 100 aims to encourage young people to engage in an active, healthy lifestyle, and draw in thousands of people by providing a safe, shared space for people from all backgrounds. Skate 100 is also set to welcome more visitors to the council area while attracting further investment to aid economic growth.
PEACE Programme
The PEACE Programme is a unique cross-border initiative, promoting social and economic stability in the region by actions to promote cohesion between communities. Segregation increases social division and tension and also inhibits economic development and the efficient delivery of public services – the shared spaces and services objective that this project was delivered under, aims to create new shared civic spaces that will be used by all sections of the community; bringing people from different backgrounds together in a safe, inclusive space.
The PEACEPLUS Programme, which is expected to launch in Spring 2023, will continue the legacy of Peace IV and previous Peace Programmes in funding important good relations work like Skate 100.