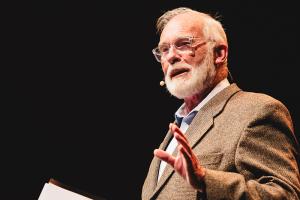 Saturday 16 September 2023 saw the curtain-raiser to this year's Good Relations Week at the Waterfront Hall in Belfast. The Northern Lights Production was delivered as part of the Department for Communities and Housing Executive's Shared Housing Programme Housing for All, which has its origins in the NI Executive Together: Building a United Community Strategy.
The theme of this year's Good Relations week was 'Together,' and the Northern Lights production brought together, for the first time, residents from each of the completed shared housing schemes across the region.
Northern Lights is produced by Peter Corry and it is narrated by Ian McElhinney (Granda Joe from television series Derry Girls). The production celebrates the diversity of our two main cultures through song, dance and comedy, and the event was opened by Head of Civil Service Jayne Brady, who praised the ongoing good relations work that is delivered by the participating Housing Associations in partnership with communities across NI.
The show included a performance from the St Patrick's College and Drumglass High school Choir, which first came together for a Christmas event in 2021. Apex Housing and Radius Housing became aware that both schools had choirs and they asked if they could form a joint choir to deliver a carol service to the shared housing residents during Covid. The choir now includes children from 14 cultural backgrounds.
Find out more about Good Relations Week