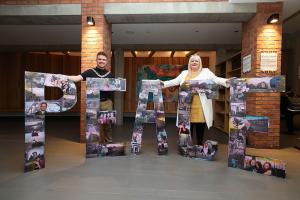 A new public artwork about peace was unveiled at Girdwood Community Hub, in North Belfast, during Good Relations Week 2023.
The artwork captured residents' personal interpretations of peace through the lens of photography.
Belfast Exposed worked in collaboration with Belfast City Council to create the artwork using the creative input of North Belfast residents. Cliftonville Community Regeneration Forum (CCRF) assisted with the project. CCRF is supported through the North Belfast Strategic Good Relations Programme, administered by the Community Relations Council.
"Young people from the communities surrounding the Girdwood site took part in workshops to contribute to an art installation to mark International Day of Peace on 21st September 2021," said Brenda Lappin, Cliftonville Community Regeneration Forum. "Young people involved participated creatively and enthusiastically and were delighted to see the end product unveiled by Belfast's Lord Mayor."
The resultant art piece will be permanently displayed in the Foyer at the Girdwood Community Hub.
Belfast Lord Mayor, Councillor Ryan Murphy, and Belfast Exposed attended the unveiling ceremony on 21 September 2023, alongside stakeholders such as Girdwood Community Forum, residents from Lower Oldpark Community Association, Thorndale, Duncairn and Kinnaird Community group, and participants from The IMAGINE Project. The project was funded through the International Fund for Ireland's (IFI) Peace Barriers Programme.
Snapshots of Girdwood
During the project, participants engaged in a series of workshops, delving into images sourced from Belfast Exposed's archives, then captured snapshots of the Girdwood environment to craft a collection of statements about Peace.
Belfast Lord Mayor, Councillor Ryan Murphy, said: "This artwork powerfully symbolises Girdwood residents' collective vision of a harmonious future. And it serves as a poignant reminder of the enduring commitment to peace and reconciliation that lies at the heart of Girdwood's inception.
"Community, friendship, unity, collaboration, and reflection emerged as pivotal concepts from the creative process in the workshops led by Belfast Exposed. Those statements, coupled with accompanying imagery, served as the essence and inspiration behind this impactful artwork."
Unique capacity to spark dialogue.
Deirdre Robb, CEO of Belfast Exposed, added: "At Belfast Exposed, we firmly believe that photography is an inclusive medium that fosters creativity and critical thinking, while driving and documenting societal change. Art possesses the unique capacity to spark dialogue around complex and challenging issues.
"Through our collaborations with various partners and the communities they represent, we aim to forge deeper connections. This partnership, in particular, will leave a lasting legacy, as it showcases how communities can harmoniously work together and convey their own message of peace and reconciliation."
Find out more about Girdwood Community Hub