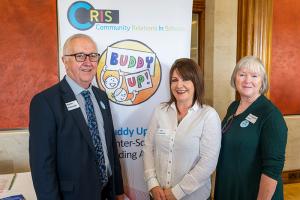 New research undertaken through a partnership between the Centre for Trust, Peace and Social Relations at Coventry University and Community Relations in Schools (CRIS) was launched on the International Day of Peace, Thursday September 2t as part of Good Relations Week 2023. The event took place in the Long Gallery, Parliament Building, and was entitled, Peace Builds at the Speed of Trust: Exploring "Trust Indicators" in Reconciliation.
The Community Relations Council supports CRIS through its Core Funding Scheme.
The research examined the role of trust-building in CRIS's school-based reconciliation initiatives. Trust, while taken for granted as important, has not been deeply unpacked or examined to better understand its more particular role in facilitating a move towards reconciliation. One outcome of the research was the development of a set of "trust indicators" that may be utilised to gauge how collaboration facilitates a foundation of trust between participants.
At the launch event, researchers provided an overview of the case study which examined CRIS's model of peacebuilding: Good Relations and Collaborative Education (GRACE). GRACE is operationalised through CRIS's whole school approach working with children, teachers, principals, parents and carers to involve them in Good Relations programmes. Since 2019, CRIS has partnered with The Executive Office's Urban Villages Initiative to roll out Buddy Up! its flagship Inter-School Buddy System across all five Urban Village locations. Schools involved in Buddy Up! were among those taking part in the research.
Following the research launch, an expert panel discussed the findings in light of the current social policy landscape such as the recent review of Together: Building a United Community (T:BUC) and developments within shared and collaborative educational approaches.
The panel included:
Dr Jacqueline Irwin (CEO of the Community Relations Council)
Chris Gardner (Head of Good Relations at The Executive Office)

Linsey Farrell (

Deputy Secretary for Education Policy and Children's Services at the Department of Education)

Research team

members: Dr Charis Rice (Associate Professor, Coventry University) and Dr Emily Stanton (Director of Programmes at CRIS)
The panel considered the implications of this research across policy, practice and research for strengthening social cohesion outcomes for peace and reconciliation across both education and Good Relations.
The research was funded in part by: the Community Relations Council's Small Grants Scheme; The Irish Government's Department of Foreign Affairs and Trade Reconciliation Funds; and The Urban Villages Initiative through the Northern Ireland Executive Office as part of the Together Building a United Community (T:BUC) Strategy.
Find out more about on Community Relations in Schools (CRIS) or get a copy of the research here