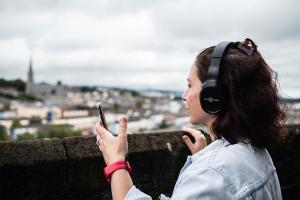 Nerve Centre has launched a new sound app, Almanac for a Walled City, with artwork from Christopher Steenson that explores Derry~Londonderry's connection with the weather.
Nerve Centre is supported by the Community Relation Council's Core Funding Scheme.
The mobile phone app provides an interactive soundwalk along the city's 400-year-old walls. It draws inspiration from the importance of almanacs and weather forecasting in Irish history to speculate on the future of Derry, as well as the relationship between society and the environment.
Delivered by Nerve Centre, the project is one of five arts projects nationwide supported by the ESB Brighter Future Arts Fund. The €250k fund, managed in partnership with Business to Arts, aims to support artists and arts organisations to deliver creative projects that will promote awareness of climate change and inspire positive action around sustainability and the energy transition.
Over the last year, Christopher Steenson spent extended periods of time in the city carrying out field recordings along the Walls, and leading a programme of engagement workshops with young people and community participants.
This helped Christopher create the virtual guide that listeners can access through the app.
"With Almanac for a Walled City, I've been exploring the ways in which the climate crisis has been created, with particular reference to Derry and its industrial past," Christopher Steenson said. "But this artwork is also about looking forward. By thinking about our historical relationship with the weather, we can imagine new and optimistic futures. I'm hoping that this artwork can be part of that dialogue."
The free to download app, available on iOS and Android from Friday 1 September 2023, will guide the public around the Walls and through a creative exploration of the city's past and future association with the weather.
Niall Kerr, Head of Heritage and Community Relations at Nerve Centre, said: "Nerve Centre has been delighted to work with and support Christopher in developing Almanac for a Walled City. It was important that the project engaged the city's residents and took on board their thoughts and opinions around a subject that communities feel increasingly passionate about. The app is a creative journey developed by Christopher that will bring a fresh perspective to how visitors can enjoy the city's iconic Walls."
For more information on the project visit: www.nervecentre.org