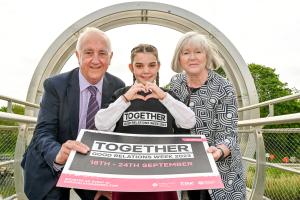 Good Relations Week 2023 is in preparation mode with a mission to embody the spirit of togetherness as it celebrates peace-building and cultural diversity in its annual contribution  to eradicating sectarianism, racism, and inequality across the region.
Good Relations Week 2023, coordinated by the Community Relations Council, is scheduled to run from Monday 18 September to Sunday 24 September 2023.
The annual celebration will highlight the importance of local organisations working collaboratively and collectively to drive meaningful progress towards building a shared future for everyone.
The theme for this year's celebration is 'Together' which will be showcased through a week-long programme of events focused on cooperation, inclusivity, and progress.
This year's theme will shine a light on individuals and organisations working together and sharing ideas and experiences in tackling everything from sectarianism and racism to gender inequality, shared spaces, peace-building, and cultural diversity.
The programme of events will include workshops, lectures, panel discussions, talks, podcasts, film screenings, music and dance performances, storytelling, and exhibitions from a diverse range of organisations across the region.
Local community groups, voluntary organisations, representative groups, statutory bodies, businesses, and local councils are encouraged to participate and register their events before the deadline of Friday 1 September 2023.
Martin McDonald MBE, Chair of the Community Relations Council, said, "In the face of societal challenges, the theme of Good Relations Week — Together — resonates with many, emphasising the importance of cooperation, collaboration, and inclusiveness in navigating difficulties and building a shared future for all across our region.
"This theme will showcase the efforts, dedication, and passion of individuals and organisations tirelessly working across Northern Ireland to build inclusive communities, promoting equality and diversity. It also aims to inspire others to get involved and make a difference in their local communities."
Jacqueline Irwin, Chief Executive of the Community Relations Council, added, "Good Relations Week 2023 will celebrate the remarkable peace-building and cultural diversity efforts happening across the region throughout the year and shine a light on those who continuously work to bring communities together.
"Events during the week will highlight how, when we live, learn, work and play together, we can achieve so much and contribute to building a shared future for all. It provides an opportunity for communities to recognise and celebrate transformative good relations work at the local level, inspiring others to get involved and collaborate in making this a better place for everyone.
"All organisations are encouraged to participate and celebrate their good relations efforts. Their work is crucial for the stability and progression of our region, and we want everyone to have the chance to be part of these special celebrations by getting involved in Good Relations Week 2023."
Chris Gardner, Director of Good Relations and T:BUC Division TEO, said: "I'm delighted to join with the Community Relations Council in supporting the launch of Good Relations Week 2023.
"This annual celebration highlights the positive work already being delivered across Northern Ireland, while also looking at the changes we can all make together to support our shared and sustainable communities.
"At a time of economic challenge and uncertainty, now more than ever we need to work together, to help create a positive future for everyone within our society. We would therefore like to encourage all organisations to get involved in Good Relations Week this year!"
Good Relations Week is supported by The Executive Office and contributes to delivering the Together: Building a United Community Strategy.
For more information on Good Relations Week 2023 and to register an event, please visit: www.goodrelationsweek.com.
Media Contact
Alice
ASG PR
Mobile: 07442876772
Email: alice@asgandpartners.com
Notes to Editors
Good Relations Week is coordinated by the Community Relations Council with the support of a Co-Design Steering Group Committee that includes representation from The Executive Office, Department for Communities, Department of Justice, Education Authority, Libraries NI, The Nerve Centre, Another Worlds Belfast, Belfast Health and Social Care Trust, NI Environment Link, Disability Action, MENCAP NI, Community Foundation NI, Community Relations in Schools, Northern Ireland Local Government Association, Bryson Group, Volunteer Now, Rural Community Network and Belfast Asian Women.
Photo Assets