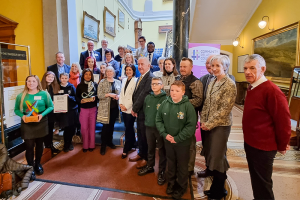 Communities across Northern Ireland are celebrating today as the five award category winners of the Good Relations Awards 2023 were announced. The event, hosted by Jo Scott from the BBC, was held at the Belfast Harbour Commissioners Office on Tuesday 7 March 2023.
The Awards are co-ordinated by the Community Relations Council and in partnership with The Executive Office. This year the extended award categories attracted 53 entries and showcased the increasing level of outstanding community relations, intercultural and peacebuilding work that is taking place across all our communities.
The Awards have showcased the crucial work that is having a real impact in our society, improving people's lives and their outlook for the future, while also strengthening the community spirit in the places and spaces where we live, work, and play.
They also highlighted the vital role of good relations in peace building and community cohesion, recognising the individuals who unite and champion our local communities, and the projects that connect us and drive our communities forward in peace, understanding and cultural respect.
This year's categories were designed to recognise the exceptional commitment to good relations work, while also providing opportunities for those who go above and beyond every day, to step forward and shine. We also welcomed our Awards Partners, who encouraged local groups, individuals and organisations from across the region to get involved and to submit nominations for the 2023 Good Relations Awards programme. The partners are Volunteer Now, Northern Ireland Council for Voluntary Action (NICVA), NI Youth Forum and Community Foundation for Northern Ireland (CFNI).
Martin McDonald, MBE, Chair of the Community Relations Council, said: 
"The Community Relations Council is proud of the legacy of the Good Relations Award, which we have organised since 2006 to highlight exceptional achievements by local peacebuilders throughout Northern Ireland. The newly expanded 2023 Good Relations Awards – in partnership with The Executive Office, NICVA, Community Foundation for Northern Ireland, Northern Ireland Youth Forum, and Volunteer Now – aims to highlight even more amazing individuals across five Award Categories.  
"The Good Relations Awards 2023 recognises the growing diversity of our society and the huge efforts of everyday people working from grassroots level and upwards making a real difference to all our lives.
"This year our Awards cover everything from sport, health, housing, education, arts, and culture, with both a rural and urban focus. We'd also like to thank Local Authorities for the great response we got with their nominations.
"The Good Relations Awards 2023 will shine a light on the people who strive for good community relations and set a positive example for us all." 
Chris Gardner, Director of Good Relations and T:BUC Division TEO, said:
"Through the 'Together: Building a United Community' (T:BUC) Strategy, The Executive Office (TEO) is committed to improving community relations and continuing our shared purpose to improve people's well-being.
"This years extended Good Relations Awards programme has provided an opportunity for TEO to expand our partnership working, and today we came together to offer public recognition and celebrate the vital good relations work taking place across our communities.
"Communities across Northern Ireland continue to undertake vital work and dedicate time and resources in order to improve their local communities and it was great today to take time to recognise the ongoing efforts." 
Notes
The Awards five categories and partners bodies supporting the Awards are:
Community Relations Council Exceptional Achievement Award (peace building) – Partner Community Relations Council
Winner: Angila Chada
Runners Up: Maureen O'Gorman and Mary Hogg
Good Relations Volunteer of the Year Award – Partner Volunteer Now
Winner: Adekanmi Abayomi
Runners Up: Dr Mukesh Chugh and Hazel McGuigan
Good Relations Community Champion Award – Partner NICVA 
Winner: Nicole Sloan
Runners Up: Mary Lafferty and Orla Hawkins
Good Relations Youth Award (Under 25) – Partner NI Youth Forum
Winner: Aaron Smith
Runners Up: VOYPIC Women's Group (Under 25s) and St Johns and Killowen Primary Schools pupils
Good Relations Connecting Communities Project of the Year Award – Partner Community Foundation for Northern Ireland
Winner: Dennett Valley Healthy Network, Damien Devine
Runners Up: Principals (Darren Mornin and Rita Moore) Limavady High School and St. Mary's High School, Limavady and TADA Rural Support Network, Geraldine Lawless
For more information, please visit www.goodrelationsawards.com
Photo Assets