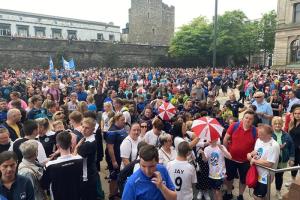 The Foyle Cup has stretched beyond local boundaries to bring young people from across Northern Ireland together with others from Ireland, the UK and further afield – building positive Community Relations.
The O'Neills Foyle Cup took place in Derry-Londonderry 18 – 23 July 2023 and Michael Hutton, Foyle Cup Chairman, believes it to be a shining example of cross-community engagement.
"The Cup reaches beyond local boundaries," Michael said. "It is used to promote social interaction, cross-community interaction, reconciliation and anti-sectarianism."
During the week-long sporting event, over 10,000 young people and 2,000 adults and coaches engaged in the cross-community event, as well as participating in an exciting city centre parade.
The Cup caters for young people with boys aged 9-19 and girls aged 8-16, as well as those with sports disability.
"The mechanism of football provides a means to build strong social networks," Michael said. "We are successfully developing this project with a view to not only expanding participation but also bringing communities together for longer periods for the benefit of the younger generation and to reconcile the diversity of our traditions and identities."
A key aim for the Cup's organisers is working in partnership with community groups in the area.
"We encourage communities to invite us not only to use their facilities," Michael said, "but to actively become involved in the 'hosting' of other teams visiting their community, especially of a different religious upbringing."
Michael is keen to point out the Good Relations work done during the event.
"It has been, is and will continue to be one of the best examples of cross-community engagement on the basis of religion, politics, colour, and more," Michael said.
Volunteering and Cooperation
This year's event attracted over 450 teams, including four teams with sport disability. In total there were more than 8,500 participants.
The Foyle Cup is a testament not just to good community cooperation but also volunteering, as it relies heavily on the support of volunteers to deliver the entire event.
"There is not one paid employee assisting with the organisation of this event – we are all unpaid workers," Michael said. "We very much appreciate the support of so many community groups who add to our volunteer numbers hugely by taking responsibility for the event within their local community – preparing pitches, organising car parking, providing soft drinks and refreshments, and officially welcoming visitors."
Promoting Good Relations
The organisers worked with IFA throughout the week to promote good relations to various age categories and to help build lasting friendships among the young people.
"We also work very closely with the PSNI to maximise opportunities for cross-community contact," Michael said, "with the presence of PSNI officers at the parade and also visiting venues during the week across the Northwest region to engage with all the kids and family members."
During the Mayoral Welcome Parade which took place on the Tuesday morning, more than 8,500 young people and accompanying family members paraded from the University Campus at Magee to Guildhall Square.
"A carnival atmosphere was experienced by all participants and family members," Michael said. "Parades such as this, which bring all communities together to celebrate participating in a sporting event of this nature, does much to create cross community contact and wellbeing and will also contribute towards reconciliation of our divided communities as it welcomes many parents and family members of both traditional religious communities and others."