Event date(s):
-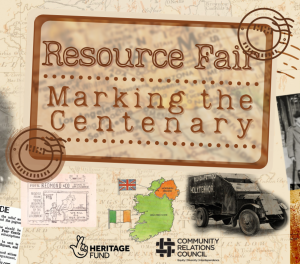 Have you got plans for marking the forthcoming 2021 NI Centenary? Well if you do, and even if you don't, there are a number of existing resources already available to support your ideas or help you develop some new ones. Find out more information below.
Supporting organisations
The Decade of Centenaries Roundtable is holding a Resource Fair taking place over three days on 24—26 February 2021. Events held each day from 10 AM – 4 PM.
This FREE event will showcase existing available resources to support organisations to mark the forthcoming 2021 NI Centenary.
The Resource Fair, which takes place online, will provide opportunities to discuss the use of the resources and their application in a way that reinforces the Principles for Remembering.
Decade of Centenaries
The Decade of Centenaries: 1912-1922, included a series of significant events in Ireland that changed the physical, cultural, political and economic landscape today, North and South. The Government of Ireland Act 1920 led to Northern Ireland as a separate legal entity on 3 May 1921, and in approaching the 100th anniversary, we have the opportunity to reflect on this period of time, acknowledging different perspectives and complexities of a contested history that may influence how people view and may respond to this anniversary. The Resource Fair offers a variety of approaches and opportunities for respectful listening and engaging in constructive dialogue about the impact of Partition. of Centenaries
About the Resource fair
The Resource fair is comprised of the following:
Morning sessions will be short info sessions to quickly highlight the resources that are available.
Afternoon sessions will demonstrate some of those resources in action.
All participants will receive a resource pack with links and information to the resources available.
Contributors
Already we have contributions, presenters and case studies from The Junction, Ulster Historical Foundation, Public Records Office of Northern Ireland, Northern Ireland Screen, Living Legacies at Queen's University, Newry, Mourne and Down District Council, Irish Linen Centre & Lisburn Museum, Building Communities Resource Centre, Causeway Coast & Glens Borough Council, History Teachers Association, Corrymeela, Derry City & Strabane District Council, and The Nerve Centre.
Register for the event